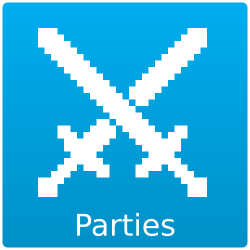 A group manager plugin for your minecraft server.
Parties is an advanced plugin for Minecraft servers that allows the creation of parties, or groups of people, on your server. Everything is configurable and modular, if you don't want a feature, just disable it (it won't have a bad impact on the server).

Warning: The plugin LastLoginAPI is required!
Feel free to translate Parties for your language! Contribute on Parties translations.
You can find the source code here and API for developers here.


100% configurable
Chat dedicated to the party
Fully customizable ranks (roles)


You decide which ranks exist
Every rank have their own party permissions
Every rank have their own rank placeholder
You can send color codes

Every command is configurable, you can change every name
Help page completely customizable (size, order)
Censor system for a lot of features (regex based)
A party can choose (or achieve) their own color
Party description and MOTD
A customizable list of every party

Choose the sort system
You can filter or hide some parties

EXP system

Give a level to each party and let them level up by killing mobs
Levels are completely customizable and optional
Drop system that works with SkillAPI and MythicMobs
Choose how to handle the drop: You can send it to players or to the party
Share the exp between players that are near the killed mob

A party can be 'fixed', no leader and exists forever (like a reign)
Ignore/disable notification commands
Server join/leave member message
Protect your party with a password or just join others with a command
Auto perform leader commands
Teleport command to tp party members to you
Placeholders system

Make custom placeholders for external use
Edit existing placeholders as you prefer
Scoreboard supported

Delete/rename every party
Server sync system

Synchronize data between different servers in the same network
Dispatch to other servers: broadcasts & party chat

Friendly fire protection

You can set it globally or toggleable with a command

Home & sethome system
Kills counter for each party
Follow the party feature, whenever a player change the world, the party will follow him
External plugins supported:

BanManager: auto kick banned users or prevents chat if muted
BedWars1058: Join into the minigame with the party
CombatLogX: Prevent pvp tagging between party members
Crackshot: Protect from weapons friendly fire
Dynmap: Create a mark for each party home
EssentialsChat: Use Parties placeholders on EssentialsChat
GriefPrevention: Give claim permissions to the entire party
MythicMobs 4.4+: Improve exp system by handling MythicMobs entities
PlaceholderAPI 2.9+: Use PAPI placeholders inside Parties and viceversa
Quests: Share quest progress with your party
SkillAPI: Share party exp via SkillAPI
Vault: Give a price to each command
Follow party feature

When a leader joins a server, the entire party will follow him
JSON messages supported
Async calls (database, commands and more)
API for developers
Statistics system (bStats)
Database supported: YAML, MySQL and SQLite
Parties is based on 2 main commands, party and p. You can change them from config.yml.
You decide what Parties will become, if you are looking for a clan plugin, just change from party to clan.
Parties is based on 2 main commands, party and p. You can change them from config.yml.
You decide what Parties will become, if you are looking for a clan plugin, just change from party to clan.
Before start to use Parties you should setup permissions, you can find the full permissions list here.
Are you looking for help? You can find me on my own Discord server!
Parties offers a great documentation to help you to configure Parties. There you can find everything that you are looking for.
These are some examples:
How can I install Parties on Bukkit/BungeeCord?
---