There should be a little nice download button - - - - - - - - - - - >
!Switched to Spigot!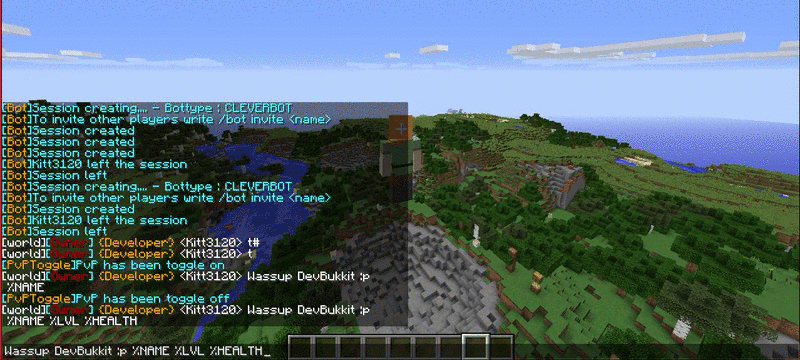 Thx to LtJim007
SpeechBubbles Testserver finally here
192.99.21.28:27987, 24/7, Cracked (If not working try : Republikacraft.tk:28820) Republika <3
Finally its here, after waiting for so long :P Tested on Spigot 1.8 and should work from 1.7.5 - 1.8.4 (Bukkit/Spigot)
Many of you asked for my YT channel - So here it is : CLICK
What is SpeechBubbles?
SpeechBubbles is a plugin that creates speech bubbles over a players head, with the written text in chat and some other informations and values
Why do i need SpeechBubbles?
SpeechBubbles is a good plugin to improve RPG-Feelings, fun and decoration
[Installation] Is it only the plugin or do i need anything else?
Its NOT only SpeechBubbles! :( You will need the following plugins to get SpeechBubbles to work:
Holographic Displays Filoghost forever ! :D
Holographic Displays Patch (If running on Spigot with protocol hack)
ParticleLib Thank you inventivetalent for this awesome api
Just put them all into your plugins folder :)
Permissions
Colors in message : Speechbubbles.color
/SpeechBubbles reload : Speechbubbles.admin
Update notify on join : Speechbubbles.admin
Todo-List
Better particles for donators
Add to config : CancelChat
More values (Like %XP, %CUSTOMNAME, %DISPLAYNAME, %WORLD, %CORDS)
Variables
You can see a list of variables here
FAQ
In the config it says something like "FollowTrailColorBlue" - What is this?
This is the color of your trail ! If you turn off "FollowTrailColorRainbow" it will define a RGB-Color with these 3 values
To "select" a color go to This site and copy the values "R, G, B" (Red, Green, Blue)
The plugin isnt working, even after taking a look at the "Install" section AGAIN
Then you can contact me in Skype -> Kitt3120
Is there a test server?
Yes there finally is! -> 192.99.21.28:27987
Can i see the source code?
Im still thinking about uploading the plugin to GitHub but currently : No
Can i add you even if i dont have a problem?
Sure why not :p Lets play some games!
[Buy colored name]
You can buy a colored name here
EUR
USD
[Donator-Tag]
I like your work and want to support you! How can i do that?
Above this you can buy a colored name. You will NOT get the Donator-Tag for it! Just your colored name. If you want the Donator-Tag just spend an minimum amount (2€ ~ 2,23 USD) as a donate
You can also donate clicking the donate button at the top right of this page or with these ones :
Euro (€)
USD ($)
You will get a donator tag AND cooler particle effects ingame! You dont even need to wait for an update! SpeechBubbles downloads the latest donators from web every 30 minutes or on server startup
[Bundle]
Euro (€)
USD ($)
The bundle contains both, Donator Tag and a colored name for a cheaper price
while

(

me

.

isTired

(){


     

me

.

goToSleep

(

now

);




}



---