---

---
Description
Pick up spawner mined with silktouch, give you any type of spawner. Manage permissions, configure the plugin as you wish. Very easy to use.
By mining a spawner with silktouch you will get a spawner of the corresponding entity

You can give any spawner with command : /givespawner (Player) (Type) [Amount]

Choose if players need silk touch to get a spawner in the config file.

Works on 1.14.X / 1.13.X /

1.12.X

!

enable/disable spawner modification with egg (in config file)

Configurable explosion drop chance

API to manage custom spawner easily ! More information in the dedicate section here.

Support for

ShopGui+

1.20 or higher

NEW (3.0) : Add command /editspawner that allow you to edit the data of a spawner, you can edit spawnRange,spawnCount,MaxNearbyEntities,
RequiredPlayerRange,Delay,MaxSpawnDelay and MinSpawnDelay
Want to make custom spawner in survival mode ? Get eggs from creatures with Creature Capture and change spawner type !
Managed entity : Pig, Skeleton, Spider , Zombie, Cave Spider, Blaze, Sliverfish, Bat, Cat, Cow, Creeper, Dolphin, Donkey, Drowned, Elder Guardian, Enderman, Endermite, Evoker, Fox, Ghast, Guardian, Horse, Husk, Llama, Magma Cube, Mushroom Cow, Panda, Mule, Ocelot, Parrot, Phantom, Pillager, Polar Bear, Pufferfish, Rabbit, Ravager, Salmon, Sheep, Shulker, Skeleton Horse, Slime, Stray, Trader Llama, Tropical Fish, Turtle, Vex, Villager, Vindicator, Wandering Trader, Witch, Wither Skeleton, Wolf, Zombie Horse, Pig Zombie, Zombie Villager, Wither, Snowman, Ender Dragon.
If you have any problem, please read the FAQ that could help you !
Since version 2.9, SpawnerSilk use bStats to collect anonymous data to make statistics for the plugin.
I'm looking for a Youtuber to do a tutorial on how the plugin works. The video will be integrated on this page. If you are interested please send me a PM.
---
Permissions
| Permission | Description |
| --- | --- |
| spawnersilk.minespawner | Allows player to mine spawner (enable by default) |
| spawnersilk.givespawner | Allows player to give spawner by command |
| spawnersilk.editspawner | Allows player to edit spawner by command |
---
Installation
Just drag and drop SpawnerSilk.jar to your plugins file.
If you already have a previous version of the plugin, please delete your SpawnerSilk folder before doing the update.
---
Issues
If you find any issue, please report it on the dedicated section.
---
Planning
Option to disable or enable that command along with choosing whether players can mine spawners with any pickaxe, or need silk touch specifically. (Thanks Outcahst)

Change attributes of a spawner (Major Update 3.0)

More configuration options

Add craft for each spawner

---

Statistics
---
Other plugins
You will find below the list of all my plugins. They are all updated with the latest version and try to offer you the best experience possible.
---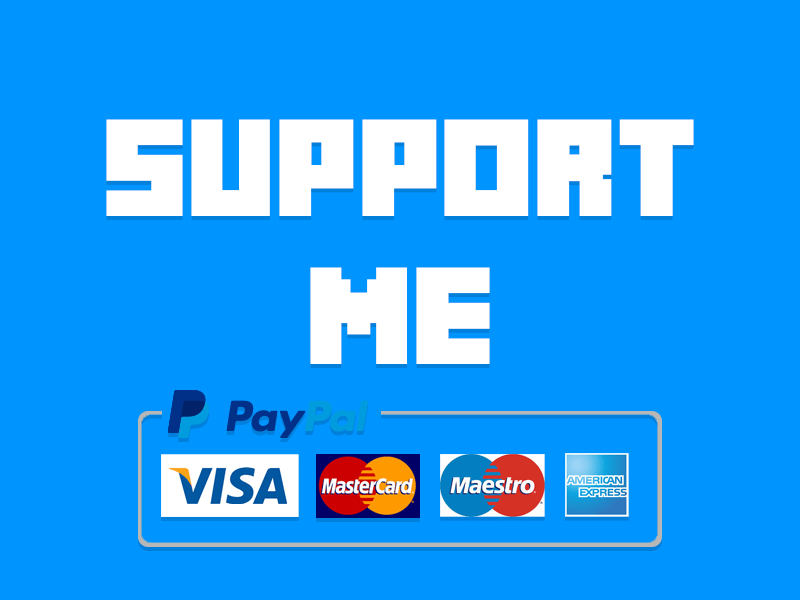 All my plugins are free. I spend lot of time per week to add features, fix bugs, help people (more than 20h/week). If you like my work and want to keep these plugins alive, you can support me by making a Paypal donation, just hit the button "Support Me". Thank you !
---
---
---