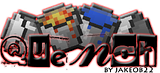 == The Quench Project ==
♪ I'll Drink to That ♪
Version: 1.1
Build Version: CraftBukkit Build #1337 (Tested to work up to build 1510)
Quench Source 1.1 - We are moving to GitHub soon! (MediaFire)
Confused with config? Look HERE!
Quench will allow you to set up drinks and allow them to heal players with several different ways of customizing it. You can change which of the 3 given drinks can be consumed and how much they will help the player's hunger bar. You can even choose if the bucket will empty after somebody drinks it! So what are you waiting for???
Features:
Allows players to drink water, milk, and even lava!
Allows admins to set how much a drink will bring your hunger bar up!
You can set if a player will drain the bucket or not when they drink.
Give the food level a negative number to make them gain hunger for drinking!
Options to alter health when you drink!
/reloadquench can reload the config from in-game or in command window!
Commands - Permissions:
/reloadquench - quench.reload:
reloads the config from in game or command window. Defaults to ops only.
Planned Possible Updates:
A chance of disease occurs every time somebody drinks!
Options to become "drunk" when you drink.
Known Issues:
Changelog:
1.1
Drinking can now heal/hurt hearts!
New command for reloading config in game!
1.0
Release for CraftBukkit 1337
We are also looking for many suggestions to add to the awesomeness of this new plugin. Thanks! We could use a lot of feedback.
---