IMPORTANT: This plugin now is on a different page, to stress the enormous rewrite: PVP Arena v1.0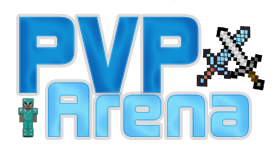 Enhance your server by adding a new dimension of PVP battles! Create fully customisable, moddable, flexible arenas, develop your own arena type or module that totally changes the game as you wish. This flexibility is achieved one the one hand by a module loader created by NodinChan which loads arena types (/pvparena/arenas) and arena modules (/pvparena/modules) which enhance the gameplay just limited by your imagination, on the other hand it features an API, which still is a WIP due to lack of requests. I will enhance it as feature/hook requests arise.
The following pages might be needed in order to better know what I am talking about.
Donate:
Known issues
If you have issues, questions, recommendations, etc, either create a ticket or check out the forums!
For everything else: Join on irc.esper.net
Metrics
To determine popularity and usage of PVP Arena, plugin installs are automatically tracked by the Metrics plugin tracking system. It will be deactivated in the next version, if you do not have any configured arenas. If you don't want this tracking, edit plugins/PluginMetrics/config.yml and set opt-out to true.
| | |
| --- | --- |
| PVP Arena Statistics by Metrics | |