With PortableTent you can now place a tent anywere you go. Just keep the tent in your inventory, and when you need it, just place it! Then a tent will be build, for you to stay in, and survive your night!
Features
1-Click tent creation
Customizable Tents. [You can build your own tent, and allow players to build it]
Pickup Tents [Shift & Right-Click to pick up a tent if you are op or the owner of the tent]
Destroy all placed tents with 1 command
Create Tents Blueprints
Limit tents per player
WorldGuard Support
Factions Support
Sign Support [Create Buy/Sell signs]
Installation & Usage
Installation

Download the plugin.
Place it on your plugins folder
Open or Restart your server.
Edit the configuration to your needs.
Restart 1 more time
You are done with installation!

Usage

Get the tent by using the command, or by crafting it
Place the tent on an flat surface
Survive the night!

<3
Quick Sign Tutorial!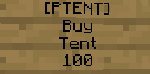 Bugs & Suggestions
Feel free to submit any bug you find, or suggest ideas:)
<3 Give me a small boost <3
---
Quote from vasil7112:

Building, maintaining, and hosting takes a lot of time and financial resources. This is completely optional, but even a small donation can help us alot.
---
---