Kingdoms - Claim your land
The Kingdoms plugin .
- Make your own kingdom and invite players.
- Claim lands and raid others .
- In your claimed land only members of it can build and break . But everyone can open chests !
- PVP is enabled !
The only uploaded version is testing version .
Commands:
Permissions:
Config:
Claimer:
Is an item , when you click with it you claim a chunk in you are staying in .

Crafting: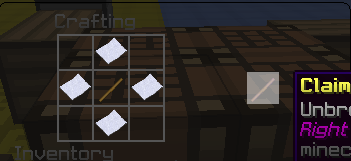 ---