Exotic Garden is a Slimefun Addon which
generates new Plants all over your World.
It includes several new Fruits as well as
their trees and new Berries and Berry Bushes.
But of course it also adds a couple new Food Sources
to the game. For every Berry there is also a Juice,
a Smoothie and a Pie available.
However there are only some Fruits which also
come with their Juice and Pies.
And if you dont happen to be lucky and find a Bush/Tree
in the world, you can also obtain them by breaking
tall grass.
This Project has moved to GitHub: https://github.com/TheBusyBiscuit/ExoticGarden
Versions from BukkitDev DO NOT WORK ON 1.13, 1.14 or later.
mrCookieSlime aka TheBusyBiscuit retired in 2016 but Slimefun's community continues to publish updates, for more Info, check the GitHub page.

This Plugin was heavily inspired by the famous Pam's HarvestCraft Mod by MatrexsVigil
and the famous Magical Crops Mod by Mark719
Source Code

You want to take over this Project? Start so by submitting Pull Requests on GitHub!


Check out Exotic Garden's Source Code, if you want to keep this Project alive, maybe even consider contributing to it by making a Pull Request!
List of new Items
Trees
Apple Oak Tree
Coconut Palm
Pomegranate Tree
Cherry Tree
Lemon Tree
Plum Tree
Lime Tree
Orange Tree
Bushes
Raspberry Bush
Blueberry Bush
Cranberry Bush
Blackberry Bush
Grape Bush
Elderberry Bush
Cowberry Bush
Plants
Strawberry Plant
Tomato Plant
Corn Plant
Lettuce Plant
Tea Leaf Plant
Cabbage Plant
Sweet Potato Plant
Mustard Seed Plant
Food
Juices
Smoothies
Coconut Milk
Wine
Various Iced Tea flavours
Thai Tea
Sweetened Tea
Pies
Jelly Sandwiches
Pumpkin Bread
Potato Salad
Chicken Sandwich
Fish Sandwich
Egg Salad
Tomato Soup
Strawberry Salad
Grape Salad
Cheesecake
Cherry Cheesecake
Blueberry Cheesecake
Biscuit
Blackberry Cobbler
Pavlova
Corn on the Cob
Creamed Corn
Sandwich
BLT
Leafy Chicken Sandwich
Leafy Fish Sandwich
Hamburger
Cheeseburger
Bacon Cheeseburger
Deluxe Cheeseburger
Carrot Cake
Jammy Dodger
Bacon
Chickenburger
Chicken Cheeseburger
Bacon Burger
Bacon Sandwich
Taco
Fish Taco
Pancakes
Blueberry Pancakes
Fries
Popcorn
Shepard's Pie
Chicken Pot Pie
Chocolate Cake
Cream Cookie
Blueberry Muffin
Chocolate Chip Muffin
Chocolate Bar
Boston Cream Pie
Hot Dog
Bacon wrapped Cheese filled Hot Dog
Pumpkin Cheesecake
Pumpkin Muffin
Lamington
Waffles
Sweet Potato Pie
Hot Chocolate
Sweetened Tea
Lemonade
Club Sandwich
Burrito
Chicken Burrito
Grilled Sandwich
And much more
Magical Plants
Coal Plant
IronPlant
Gold Plant
Redstone Plant
Lapis Plant
Slime Plant
Ender Plant
Glowstone Plant
Obsidian Plant
Diamond Plant
Emerald Plant
Quartz Plant
Misc
Crook
Grass Seeds
Mayo
Cornmeal
Mustard
BBQ Sauce
Screenshots of those Plants would be much appreciated. If you could take one or two and send me the link, I will add some of them here.
Custom Player Heads (1.8)

IMPORTANT: Since 1.8 Player Heads render in your Inventory, therefore
ExoticGarden provides the ability for all the Dishes and Fruits to be displayed
using a custom Texture.



However if this somehow does not seem to work or you are using 1.7 (or below),
you can simply disable that Feature by setting options: item-heads to false in
your ExoticGarden config.yml

You have a Texture for a new/existing Item in ExoticGarden, feel free to send me the .png File via my contact Page and I will gladly consider implementing it

Also a huge thank you to AquaLazuryt for making most of the Textures you can see in this Plugin
Screenshots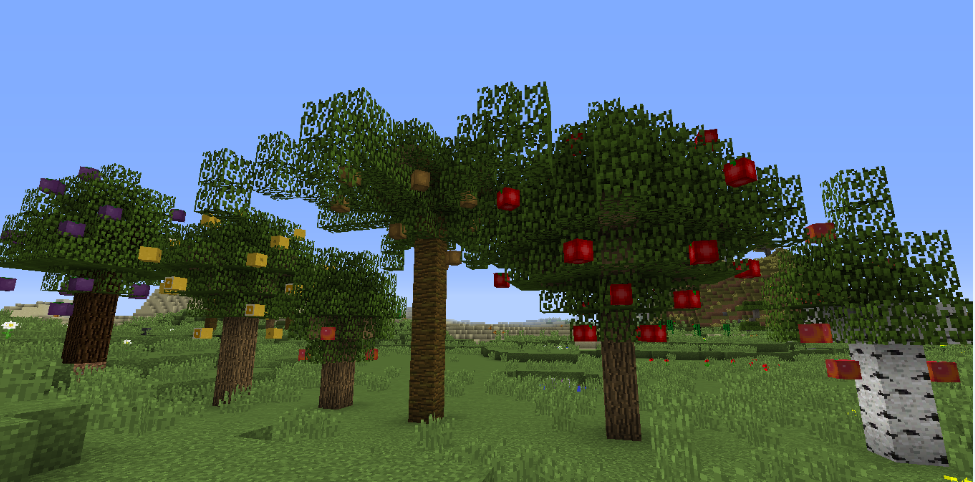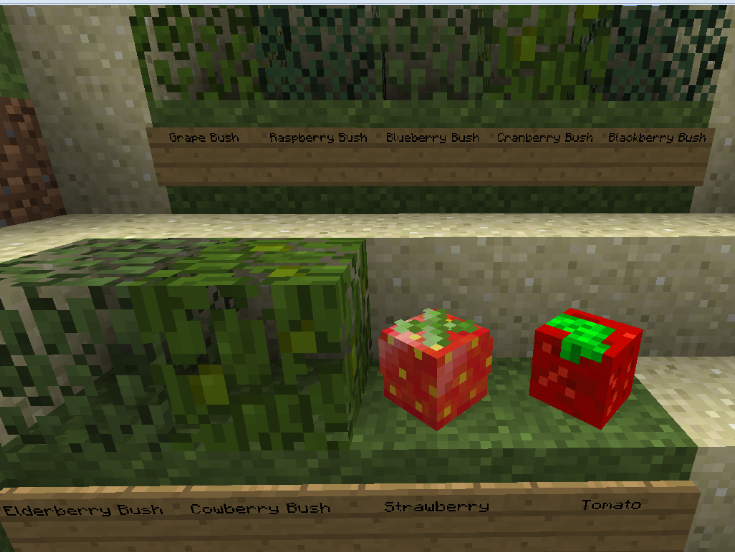 Commands/Permissions

There are no Commands and no permissions!
Auto-Updater and Metrics

All my Plugins are using an Auto-Updater to make sure, you're always
using the latest and hopefully most bug free version of my Plugin.
If you don't want this Plugin to be auto-updated, you can turn it off
in the config file at "options -> auto-update: true/false"

They also use a Metrics-System which collects the following Informations:

A unique identifier
The server's version of Java
Whether the server is in offline or online mode
The plugin's version
The server's version
The OS version/name and architecture
The core count for the CPU
The number of players online
The Metrics version
Opting out of this service can be done by editing
plugins/Plugin Metrics/config.yml and changing opt-out to true.