A Dynmap add-on to display TARDIS locations on your Bukkit server.
Requirements
TARDIS version 2.8-beta-1 build #655 or higher
Dynmap version 1.9 or higher
Installation
Install Dynmap as per the instructions found on the Dynmap page. Run the server once to generate the default Dynmap files and folders.
Drop the Dynmap-TARDIS.jar file in the server plugins folder.
Put the tardis.png icon file () into the plugins/dynmap/web/tiles/_markers_/ folder.
Run the command /dmarker addicon id:tardis newlabel:tardis file:plugins/dynmap/web/tiles/_markers_/tardis.png
Stop and start the server.
Render the map.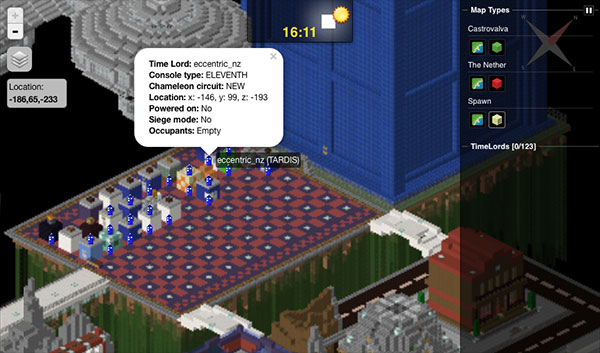 Dev builds
Development builds of this project can be acquired at the provided continuous integration server. These builds have not been approved by the BukkitDev staff. Use them at your own risk.
---