DropHeads
---
Let the head-hunt begin!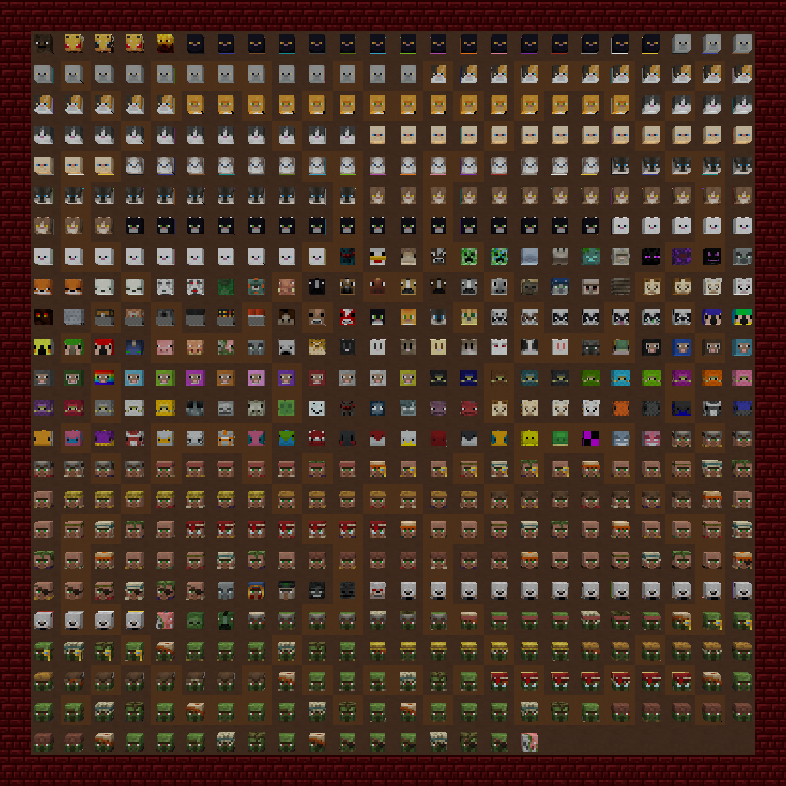 Using quality heads supplied by Minecraft-Heads.com & Nano Team ❤️

---
Key Features
Everything is configurable!
Get heads as a death drop, or with a command
MASSIVE variety of mob heads (eg: snow fox, lime sheep, grumm swamp farmer villager, …)
Item-stacking and texture-updating fixes
Custom behead death messages
Regular updates (and optional auto-updater)
---
Configuration (Sample)

Defaults are designed to fit well on just about any server.
However, if you like getting into configuration, here's a taste of what you can do:
Adjust drop rates based on mob type
Adjust drop rates based on spawn conditions (eg: Breeding, MobSpawners, /summon, ...)
Adjust drop rates based on ticks-lived
Adjust drop rates based on what weapon is used
Require using specific weapon(s) to get heads to drop
Support charged creeper head drops
Limit head drops when not killed by a player (configure what counts as 'killed by a player')
Change any head textures (or add your own!)
Set up automatic updates
...and more! Check out config files in the source repository
---
Permissions
For an always up-to-date list, check here.
dropheads.canlosehead: This entity is able to drop a head upon its death
dropheads.canbehead: This entity is able to get heads by killing others
dropheads.alwaysbehead: This entity gets heads for 100% of kills (unless canlosehead is false)
dropheads.clickinfo: Permission to see name of a head by clicking it
dropheads.spawn: Permission to give heads with a command
dropheads.droprate: Permission to check head drop rates with a command
---
F.A.Q.
Q: Heads are not dropping for me!
A: There a several possible causes; please go over this checklist before messaging me or leaving a comment:
* Check if another plugin is blocking or modifying the death-event item drops
* Check if you have the dropheads.canbehead permission
* Check head-drop-rates and spawn-cause-modifiers (spawn egg drop rates are nerfed by default!)
* Keep in mind the time-alive, weapon-used, and looting modifiers.
* If killing a player, check if they have the dropheads.canlosehead permission
* If you have modified your config files, check them carefully for other causes
Q: Does this plugin ever cause lag?
A: Nope! I hear it is much faster than Xisumavoid's datapack :)
Q: Can I edit the head textures (i.e., to match a resource pack)?
A: Yes! Look in the head-textures.txt file
Q: Migrating from another heads plugin?
A: It should be an easy drag-n-drop replacement, but if you have any issues let me know!
Q: How do I install for singleplayer or a pure vanilla server?
A: DropHeads is built for Bukkit and its forks (Spigot, etc); perhaps try MMH-Nano instead
Q: What about older versions of Minecraft?
A: Currently, DropHeads only supports 1.13+. You can find older DropHead jars that work for 1.12 in the Files tab, or use a different plugin that has support for legacy versions, such as PlayerHeads.
---
Planned Features
Drop cracked Iron Golem heads, and possibly repair them clicking with an iron ingot?
Hollow skull-texture for Stray and Skeleton_Horse
Find/improve heads for these mobs:


Giant (currently using "Giant Toe")
Tropical Fish (currently have 22 common varieties, need to generate 3104 more ☹️)
Carpeted llamas
Feel free to reach out if you find any bugs or a texture for a missing head!
---