DropHeads
The head-hunt for the largest collection of mobs!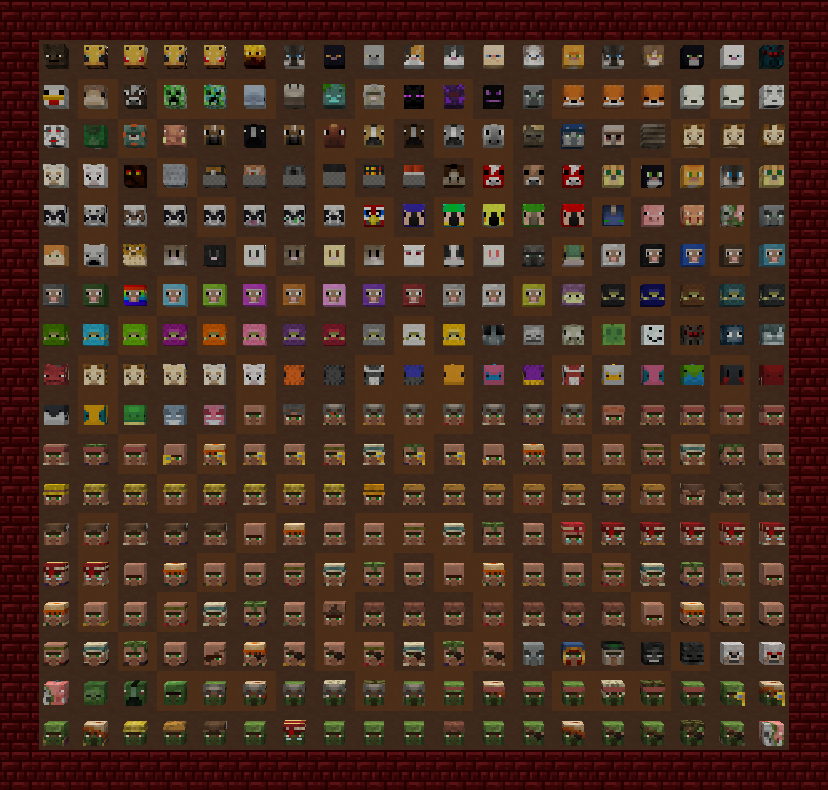 Built using quality heads supplied by Minecraft-Heads.com ❤️

---
Features
Get player/mob heads with a command or as a death drop
MASSIVE variety of mob heads (snow fox, lime sheep, grumm swamp farmer villager, …)
Head stacking and texture updating (on skin change, configurable)
Custom "beheading" death messages
Regular updates (option for auto-updating as well)
Fully configurable!
---
Configuration (Sample)

The defaults are designed to work well for most any server.
However, if you like getting into configuration, here's a taste of what you can do:
Adjust drop rates (per mob type)
Adjust drop rate based on spawn conditions (eg: Breeding, MobSpawners, /summon, ...)
Adjust looting enchantment drop rate modifier
Adjust drop rates when using specific tools or weapons
Require using specific weapon(s) for heads to drop (eg: gold axe)
Enable charged creeper head drops for non-vanilla mob heads
Enable/Disable heads of any mob or player
Only drop heads when killed by a player
Control conditions for what counts as 'killed by a player'
Change any of the head textures
Automatic updates, bringing new textures and features
...And more => Check out configuration files in the source repository
---
F.A.Q.
Q: Can I edit the head textures (i.e., for a resource pack)?
A: Yes! Look into the head-list.txt file
Q: How do I modify mobs' head drop rates based on spawn reason?
A: Edit the spawn-cause modifiers.txt in the config folder
Q: Does this plugin cause any lag?
A: Nope! I've heard it is much faster than Xisumavoid's datapack :)
Q: What if I'm coming from another heads plugin?
A: DropHeads should be an easy drag-n-drop replacement, but if you have any issues let me know!
Q: What about older versions of Minecraft?
A: Sorry, modern DropHeads is not currently compatible with 1.12 and below. You can download an older version of DropHeads from the Files tab, or use a different head plugin that supports old versions, such as PlayerHeads.
---
Upcoming..!

DropHeads as a PlayerHeads addon (Goal: old minecraft-version support + the wide collection!)
Tropical Fish C-C-P head-generator
"Hollow" heads for Skeleton-Horse & Stray
Option to affect drop-rate based on how many ticks an entity has lived
More detailed and configurable logs system
Improve/find missing heads for these mobs:


Giant (currently using "Giant Toe")
Tropical Fish (3104—we currently only have the 22 common varieties ☹️)
Zombie Villagers with

Profession

and

Biome

skin features (W.I.P., about halfway done ☺)
If you find a bug or want to help with a missing head, please let me know!
---