iEmotions - Emotions in your chat!
Created By: Linky
Developed By: 22vortex22 & LAGxcrafter
Artist/Designer: xDizasterCYx
---
---
Tired of raging in the chat instead of just writing a small command? Tired of writing a huge text to tell your friend that your happy about what they did? This is the plugin for you! This plugin allows you to write a simple command to express your emotions in the chat. Either your happy or mad, this is the right plugin for you! Heres a small preview of the plugin (Video Coming Soon...)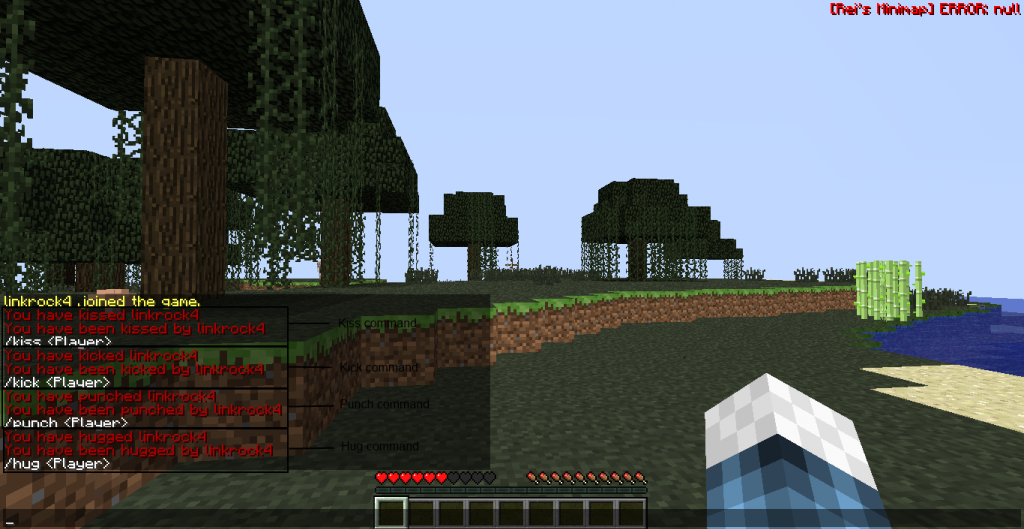 (This image is outdated)
Download iEmotions.jar
Place the iEmotions.jar in your plugin folder
Run the server
Enjoy!
/ie-hug - Hug a Person
/ie-kiss - Kiss a Person
/ie-kick - Kick a Person
/ie-punch - Punch a Person
/ie-slap - Slap a Person
/ie-setemote - Set your emote (happy, sad, etc...) Emotion list coming soon
ie.hug - Get the /ie-hug command
ie.kiss - Get the /ie-kiss command
ie.kick - Get the /ie-kick command
ie.punch - Get the /ie-punch command
ie.slap - Get the /ie-slap command
ie.setemote - Get the /ie-setemote command
Add even more emotions
Add even actions
Add config
Add buffs to the emotions
V:2.1
Made permission message better
Added iEmotions logo V:2.0
Added Emotions (10)
Added Slap Action
Bug fix with kiss and hug
Beta release V:1.1
Renaming plugin
Bux fix V:1.0
Initial release
---