Assembly Line Furnace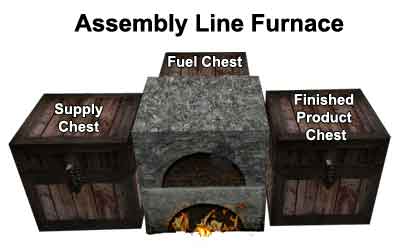 Version: 1.4
Overview
Assembly Line Furnace is an easy to use plugin that allows for automatic loading and unloading of furnaces. You can use this to process large batches of materials without having to hover over your furnace continually watching it. If you look at the picture above this is the designated design layout of the Assembly Line Furnace.
This plugin will automatically load a source material, fuel and then automatically kick out the finished product into the finished product chest. The Assembly Line Furnace can use the following fuel types:
Coal
Charcoal
Wood
Saplings
Sticks
Fence
Wood Stairs
Trap Doors
Workbench
Bookshelf
Chest
Jukebox
Note Block
Blaze Rods
Lava Buckets
When using the fuel source Lava Buckets, the emptied lava bucket will be kicked out of the furnace into your materials supply chest.
How to Use?
Build an Assembly Line Furnace in the configuration shown above. Load your Source Materials into the chest on the left. Load your Fuel supplies into the chest behind your Furnace then Left-Click on your furnace. Providing you have the appropriate permissions your Assembly Line Furnace will activate and you will receive a message in your chat window verifying this action. You can use a double chest for both the Supply Chest and the Finished Materials Chest.
Assembly Line Furnace has a built in ability to keep the chunk that the furnace is currently located in loaded so that your furnace continues to operate if no player is around to keep the chunk loaded. To activate this feature, do the above, after your Furnace is activated and running type the command:
/alf keeploaded.

Use this feature with caution.
Permissions
Here's a list of specific permissions nodes for this plugin and what each does.
assemblylinefurnace.use = allows a user to use the Assembly Line Furnace.
assemblylinefurnace.keeploaded = allows user to keep the chunk loaded even when a player isn't around to do so normally.
---