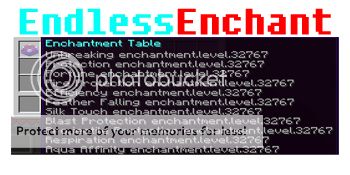 EndlessEnchant
Use EndlessEnchant to create abnormal item enchantments! With a few fail-safes here and there, it's practically guaranteed to get you what you want! EndlessEnchantReloaded originated from here
Installation
Just drag and drop the .jar file into your Minecraft server's \plugins directory and you're done! Git 'er dun'!
Features
Easy Installation
Kit Enchantments (Armor, Tools, Swords, Bows)
Many aliases of which you can learn by doing /EE Alias <enchantment name> or /EE Aliases (huge list).
Failsafe upon enchanting an item so much that the enchantment becomes negative
Failsafe upon attempting to enchant with a negative enchantment
Commands
EndlessEnchant has one base command: /EE. By using this one command, you have access to all of the plugin's features!
Permissions
Basic
Advanced
Admin
EndlessEnchant.Help - Needed for the base command: /EE
EndlessEnchant.Kits - /EE Kits
EndlessEnchant.Endless - Permission for enchanting above level 5
EndlessEnchant.Usage - /EE Usage(Usage can be replaced with '?')
EndlessEnchant.Kits.* - Able to use all kit enchantments
EndlessEnchant.Aliases - /EE Alias(es)
EndlessEnchant.Kits.Armor - Able to do /EE Armor <level>
EndlessEnchant.Enchantments - /EE Enchantments
EndlessEnchant.Kits.Swords - Able to do /EE Swords <level>
EndlessEnchant.Enchant.* - /EE Add (or enchantment name) <name/level> <level>
EndlessEnchant.Kits.Tools - Able to do /EE Tools <level>
EndlessEnchant.Disenchant - /EE Remove
EndlessEnchant.Kits.Bows - Able to do /EE Bows <level>
EndlessEnchant.Enchant - /EE Add (Enchanting items up to level 5)
Plugin Review
I made my own review/tutorial of this plugin to help any of you that are lost.
Troubleshooting
If you do happen to have any trouble with this plugin, go ahead and post a comment below! :)
Facts
Date created

Nov 12, 2012

Categories

Last update

Dec 13, 2013

Development stage

Release

Language

License

Curse link

Downloads

43,170

Recent files