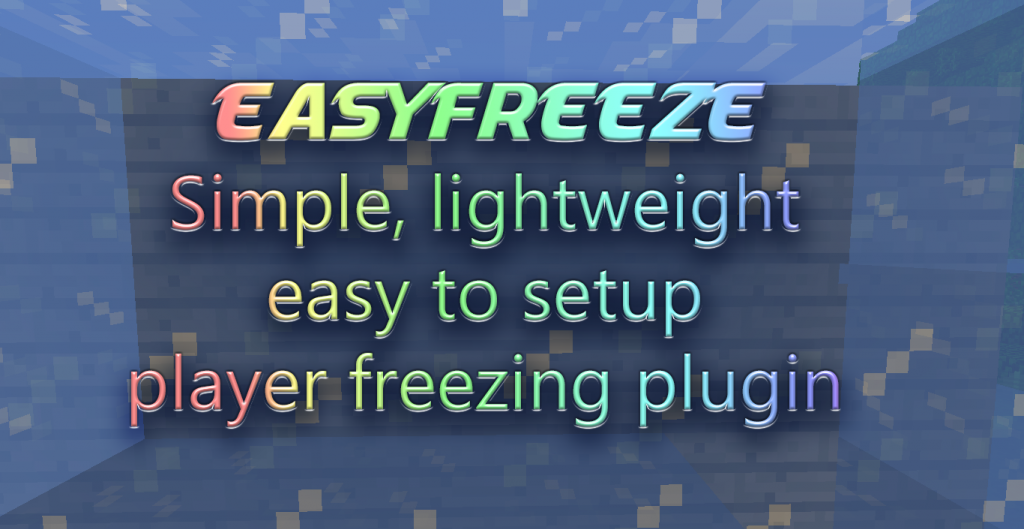 Follow me on twitter ( @theluckyg ) for updates and help with plugins!
Also, you can talk about EasyFreeze using the hashtag #EasyFreezeBukkit , I'll read it!

Description
This plugin offers a complete, lightweight, and easy to set up freezing option. It's function is simple: It keeps players from moving. You can use it as a punishment for hackers, freeze the entire server in case of grief (or if you are bored) or use /silentfreeze and start trolling!
In addition, even if you have the exemption permission, you can still freeze yourself, so if you're falling out of the world or something similar, typing a fast /freeze can save you time. This can be useful for seeing what a frozen player would see, too.
More...
Translations and instructions
Screenshots
You can disable any message by setting it to "none" in the config.
Commands and permissions
Command
Description
Permission
Default
/freeze <target player>
Freezes target player
efreeze.freeze.(self/other)
OP
/silentfreeze <target player>
Freezes target player without warning him/her
efreeze.freeze.silent.(self/other)
OP
/freezeall
Freezes everyone on the server
efreeze.freeze.all
OP
/unfreeze <target player>
Unfreezes target player
efreeze.unfreeze.(self/other)
OP
/unfreezeall
Unfreezes players that were frozen by /freezeall,
not individually frozen players
efreeze.unfreeze.all
OP
/freezereset
Resets frozen player data (unfreeze EVERYONE)
efreeze.reset
OP
COMMANDLESS PERMISSION

Keeps player from being frozen by
other players and /freezeall (Can still individually self-freeze)
efreeze.exempt
OP
PARENT PERMISSION

Gives all of the above permissions
efreeze.*
OP
PARENT PERMISSION

Allows player to use freezing commands
efreeze.freeze.*
OP
PARENT PERMISSION

Allows player to use unfreezing commands
efreeze.unfreeze.*
OP
PARENT PERMISSION

Allows player to perform silent freezing
efreeze.silent.*
OP
PARENT PERMISSION

Allows player to perform massive freezing
efreeze.*.all
OP
To-Do
Frozen area, in which nobody can move
Freezing wand, which freezes a player by hitting him with it *curently working on*
Optional mute in addition to original freezing *currently working on*
Teleportation block when frozen *currently working on*
Automated freezing (when spamming, gitching trough walls, flying on survival...)
Temporary freezing
Contribute
You can always click this adf.ly link and "skip ad" as many times as you want (it's a loop). If you see that instead of external ads, adfly starts advertising itself, stop, that doesn't give me money. Don't think I'm getting rich out of your click, I get $5 each 1000 visits.
Facts
Date created

Jul 31, 2013

Categories

Last update

Jan 02, 2014

Development stage

Release

Language

License

Curse link

Downloads

3,739

Recent files