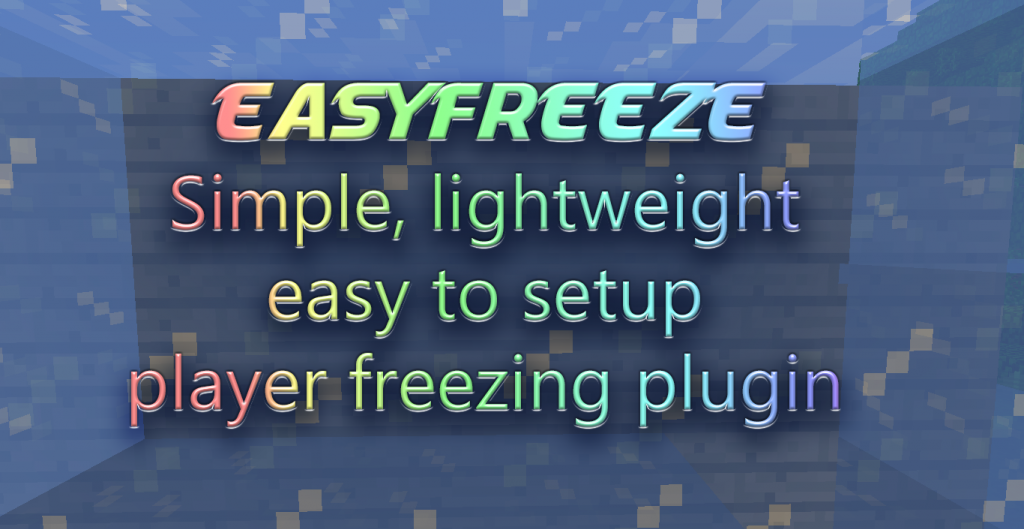 Follow me on twitter ( @theluckyg ) for updates and help with plugins!
Also, you can talk about EasyFreeze using the hashtag #EasyFreezeBukkit , I'll read it!

Description
This plugin offers a complete, lightweight, and easy to set up freezing option. It's function is simple: It keeps players from moving. You can use it as a punishment for hackers, freeze the entire server in case of grief (or if you are bored) or use /silentfreeze and start trolling!
In addition, even if you have the exemption permission, you can still freeze yourself, so if you're falling out of the world or something similar, typing a fast /freeze can save you time. This can be useful for seeing what a frozen player would see, too.
More...
Translations and instructions
Screenshots
You can disable any message by setting it to "none" in the config.
Commands and permissions
Command
Description
Permission
Default
/freeze <target player>
Freezes target player
efreeze.freeze.(self/other)
OP
/silentfreeze <target player>
Freezes target player without warning him/her
efreeze.freeze.silent.(self/other)
OP
/freezeall
Freezes everyone on the server
efreeze.freeze.all
OP
/unfreeze <target player>
Unfreezes target player
efreeze.unfreeze.(self/other)
OP
/unfreezeall
Unfreezes players that were frozen by /freezeall,
not individually frozen players
efreeze.unfreeze.all
OP
/freezereset
Resets frozen player data (unfreeze EVERYONE)
efreeze.reset
OP
COMMANDLESS PERMISSION

Keeps player from being frozen by
other players and /freezeall (Can still individually self-freeze)
efreeze.exempt
OP
PARENT PERMISSION

Gives all of the above permissions
efreeze.*
OP
PARENT PERMISSION

Allows player to use freezing commands
efreeze.freeze.*
OP
PARENT PERMISSION

Allows player to use unfreezing commands
efreeze.unfreeze.*
OP
PARENT PERMISSION

Allows player to perform silent freezing
efreeze.silent.*
OP
PARENT PERMISSION

Allows player to perform massive freezing
efreeze.*.all
OP
To-Do
Frozen area, in which nobody can move
Freezing wand, which freezes a player by hitting him with it *curently working on*
Optional mute in addition to original freezing *currently working on*
Teleportation block when frozen *currently working on*
Automated freezing (when spamming, gitching trough walls, flying on survival...)
Temporary freezing
Contribute
You can always click the link in my signature and "skip ad" as many times as you want (it's a loop). If you see that instead of external ads, adfly starts advertising itself, stop. That means you've reached the max ads that can be seen from your IP in a day. Don't think I'm getting rich out of your click, I get less than $5 each 1000 visits.
You can contribute directly through:

Bitcoins: 1DxUB8EtcCXPWCqvR2ucakAZBbbC5gs1dd
Litecoins: LSffgcJkAtZG8ND3dja4YHzfor2nY9MhVL
Dogecoins: DNXJZqY3mEpQBmvNTGwa8bHcJ8xpfPUTsU
Ripples: rKXCGNa3RRwBHwAcu6G7YgdGGnEebAkDXW
Peercoins: PKfnWQ5XCQxNUK6cr3T7Br4uS1cDQhUhsF
Pesetacoins: LAQidaopawv1e3fsEEogSfk8yZqw2EG7QV
Facts
Date created

Jul 31, 2013

Categories

Last update

Jan 02, 2014

Development stage

Release

Language

License

Curse link

Downloads

3,980

Recent files