Easy Pvp Kits
This plugin focuses on making kit pvp to be extremely easy for anyone to setup which makes it great for almost any kit pvp server. The commands are extremely simple and this plugin shouldn't interfere with any other plugins. Also it is constantly updated to ensure a bug free and easy to use plugin. It comes with auto soup built in to make setting up a little bit easier and new kits are always being added. It even includes auto-updating for your convenience. A full list of features is below..
Features
Updated to 1.7.2
5 Amazing Coded Kits
Integrated Instant Soup
Easy To Use Commands
1 Kit Per Life Integrated
Simple Permissions
A Simple Reset Command
Small Data Space
Fast Loading Speed
No Hunger Integrated (With Permissions)
Sign Integration (With Permissions)
Auto Updating
Kit GUI
Simple Config
Commands
/pvp
/pyro
/archer
/heavy
/assassin
/kits
/reset
/update
Permissions
Kit Commands:
EasyPvpKits.Pvp
EasyPvpKits.Archer
EasyPvpKits.Heavy
EasyPvpKits.Pyro
EasyPvpKits.Assassin
Other Commands:
EasyPvpKits.Kits
EasyPvpKits.Admin (Used for /update, /reset and other admin commands of the plugin)
Events:
EasyPvpKits.Soup
EasyPvpKits.NoHunger
Sign Events:
EasyPvpKits.Sign.Create
EasyPvpKits.Sign.Use
Sign Kits:
EasyPvpKits.Sign.Kits.Pvp
EasyPvpKits.Sign.Kits.Archer
EasyPvpKits.Sign.Kits.Heavy
EasyPvpKits.Sign.Kits.Pyro
EasyPvpKits.Sign.Kits.Assassin
Changelog
1.1.2
Added Permission To /update (EasyPvpKits.Admin)
1.1.1
Completely rewrote the whole code. (Makes it easier for me to add config options further on!)
Replaced /kits with a brand new GUI
Added Auto Updating
Added Sound Effects & Item Descriptions
Changed /reset to a player only command due to errors from using the console.
By the way: This version isn't shown in the file list because I uploaded 1.1.2 directly afterwards.
1.1.0
Integrated Signs
2 new permissions: EasyPvpKits.Sign.Create & EasyPvpKits.Sign.Use
1.0.9
1.0.8
Added No Hunger
Added New Permission: EasyPvpKits.NoHunger
1.0.7
Fixed Assassin Bug
Nerfed Assassin
1.0.6
Added new command /kits
Added new permission EasyPvpKits.Kits
1.0.5
Added Assassin kit
Added new permission: EasyPvpKits.Assassin
Added new command: /assassin
1.0.4
Added Insta-Soup
Added new permission: EasyPvpKits.Soup
Fixed /reset bug.
1.0.3
Added the pryo kit
Made archer have infinite arrows.
Added permission EasyPvpKits.Pyro
Changed archer's sword to stone.
1.0.2:
Cleaned up code.
Added new permission: EasyPvpKits.Admin
Added new command: "/reset [playername]" This clears a players kit and allows them to pick a new kit. You need to have EasyPvpKits.Admin to use this command.
Fixed error in plugin.yml
1.0.1:
Minor Bug Changes
Message when they have no perms.
1.0.0:
Kit Descriptions
Pvp
Archer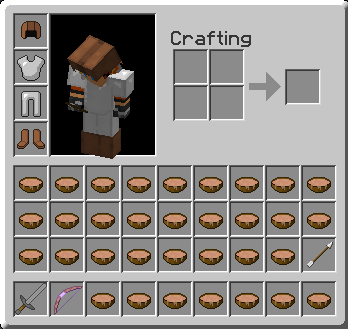 Infinity Bow
33 soup
Stone Sword
Heavy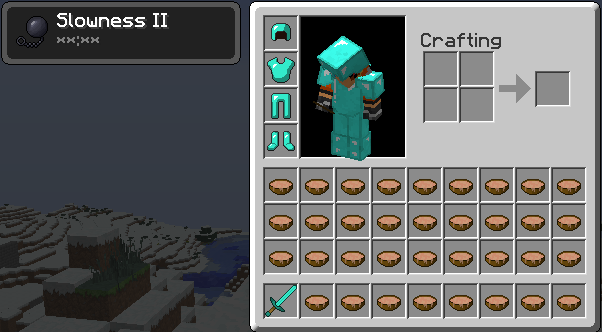 Diamond Sword
Full Diamond Armor
35 Soup
Slowness 2
Pyro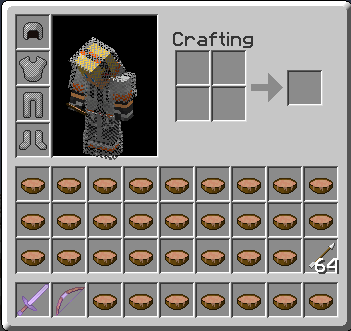 Stone Sword With Fire Aspect 1
Bow With Fire Aspect 3
Full Chainmail Armor
33 Soup
64 Arrows
Assassin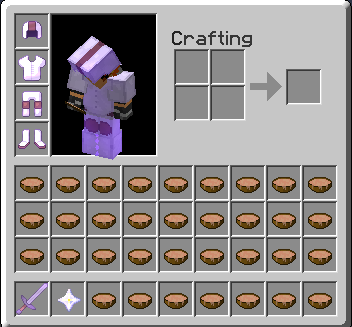 Stone Sword With Sharpness 1 And Unbreaking 3
Netherstar (When clicked it activates "Assassin Mode" which gives alot of buffs for 15 seconds and then makes them vulnerable for 10 seconds.)
Protection 2 White Leather Armor
34 Soup
Kit Gui
Here is a look at the cool kit gui that is provided in the plugin.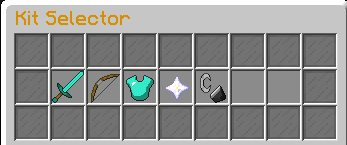 Signs
To create a sign you place a blank sign and write [EPK] and then on the next line you put the desired kit you want for the sign. Once you place the sign it will message you in chat if you did it correctly.
(Sorry for bad quality)
To use signs all you need to do is right click the sign when you have the permission EasyPvpKits.Sign.Use you will also need the permission for the kit (EasyPvpKits.Sign.Kits.etc..) that is on the sign.
If you don't have the create permission you will not be able to place signs throughout the server.
Configuration
Currently the plugin only has one config option. And this is to disable and enable the check for a newer release when an operator joins the server. I will be adding tons more of options and can't wait to do that. If you'd like to see the configuration file of the plugin please click here or the link above.
Announcements
Here are my ideas on what should be worked on next...
So many configurable settings. (I'm really excited about these! [Coming Really Soon!])
World toggling.
And many more smaller features.
Tutorials
Portuguese: Se você fala Português do relógio o vídeo abaixo
P.S. If you made one please feel free to post it in the chat.
Tickets
If you have any suggestions or problems please don't post in chat, make a ticket. This allows me to be more organized and keep track of things better.
Donating
Donating speeds up future development.
If you use and enjoy the plugin please feel free to donate.
If you are making money using my plugin please feel free to share and donate some of it.
Donating really makes me happy.
Facts
Date created

Oct 07, 2013

Categories

Last update

Jan 10, 2014

Development stage

Release

Language

License

Curse link

Downloads

16,133

Recent files